"Pieces from the Past"
August 12, 2017 @ 9:00 am

-

6:00 pm
Event Navigation
Organization: Rosenberg Library
Cost: Free
Contact: (409)763-8854 ext 125
Summary: Pieces from the Past features historic quilts from Rosenberg Library's permanent museum collection. The exhibit is located in the 4th floor Harris Gallery and will be on view through December 31, 2017.
Link: http://www.galveston.com/rosenberglibrary
Quilts have been used in America since the 17th century, but the earliest examples were imported from India rather than produced domestically. By the 18th century, American women were making their own quilts, but these were initially an expensive commodity due to the limited availability and high cost of fabric. Eventually, domestic production of fabric became a reality, and a wide range of affordable textiles became available. In 1846, the first mechanized sewing machine was patented, forever changing the lives of quilt makers. Sewing machines made the process of quilt production less time consuming and required no formal education.
American girls were taught sewing and needlework from a young age both at home and later at school. The first published quilt pattern in the U.S. appeared in Godey's Lady's Book in 1835; most of the earliest patterns were copied from British magazines. However, the designs and fabrics developed by the British – mosaic styles using silk – were not favored by American quilters who preferred block styles pieced with calico. American quilts were often made with fabric scraps, as newly purchased fabrics were expensive and unavailable in many parts of the country.
Specific names for designs became important during the 19th century in order to distinguish the growing number of individual patterns. Regional patterns also developed in different parts of the nation which reflected the traditions of various geographic areas.
Firms such as Montgomery Ward and Sears, Roebuck, & Company sold quilt frames, fabric, and batting through their mail-order departments. Patterns were available through suppliers like the Ladies Art Company which produced catalogs featuring hundreds of designs. By the 1930s, several major newspapers featured special columns by quilting experts, some of who designed their own original patterns for publishing. During World War II, these once-popular newspaper features began to disappear, and between 1940 and 1970, few new patterns were introduced.
By the late 1950s, the popularity of quilts had declined; these domestic textiles were considered outdated elements of home décor. However, the 1976 American Bicentennial brought about a renewed interest in American folk art, including quilts.
Today, 16 million Americans enjoy quilting as a hobby and spend more than $3 billion annually on fabric, pattern books, sewing machines, and other tools of the trade.
Pieces from the Past features historic quilts from Rosenberg Library's permanent museum collection. The exhibit is located in the 4th floor Harris Gallery and will be on view through December 31, 2017. Rosenberg Library is open Monday through Saturday from 9 a.m. to 6 p.m. Admission to the museum galleries is always free.
Quilt Preview: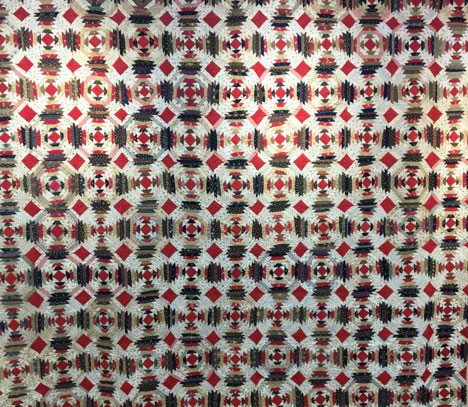 Pineapple Quilt, 1843 & 1920
A Pineapple quilt pattern is a type of Log Cabin quilt in which the ends of the fabric strips are cut at angles rather than left straight. This quilt was pieced in 1843 by Sarah Avery Thomas in Connecticut when she was just six years old.
In 1920 – nearly eight decades later – it was finally lined and quilted by her daughter-in-law, Jean Scrimgeour Morgan, in Galveston. Gift of Mrs. George D. Morgan (Jean Scrimgeour Morgan), 75.057